Demystifying Medical Malpractice Litigation – A New 5% Premium Discount and Excess Program!
Medical malpractice litigation can be a disorienting and overwhelming concern for many healthcare professionals. Physicians' Reciprocal Insurance (PRI), a top provider of continuing medical education for physicians, is pleased to offer a new Excess insurance program to help physicians learn and gain a comfort level with the mysterious world of medical malpractice litigation.
The program, Demystifying Medical Malpractice Litigation, is a 5-hour course developed to explain and demonstrate important malpractice concepts such as the elements of negligence, statute of limitations, and defense strategies for medical malpractice claims. The program is designed to empower physicians with the legal knowledge that can help reduce the practice of defensive medicine while enhancing patient care.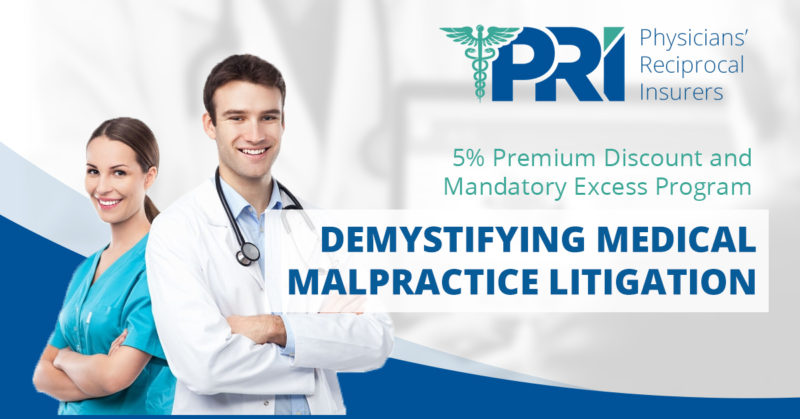 In addition to medical malpractice education and guidance, physicians will also receive a 5% premium discount by participating in this program. It has been approved by the New York State Department of Financial Services as satisfying the risk management education requirement for eligible physicians to participate in the Excess insurance program.
The course will be available on or about April 30th, either online in the PRI education portal or by attending the live seminars in June. In accordance with New York State Department of Financial Services regulations, the Excess insurance program and project must be completed by June 30th, 2019.
For online access, please go to https://pri-edu.medmal.com. From there, you can log into the education portal with your Primary Policy Number.
To attend a live seminar in June, click here. The 5 seminars will be conducted at PRI headquarters in Roslyn, NY.
PRI invites you to complete our program and learn how to navigate the legal waters of medical malpractice litigation.