PRI Alert – 2019 Novel Coronavirus (COVID-19)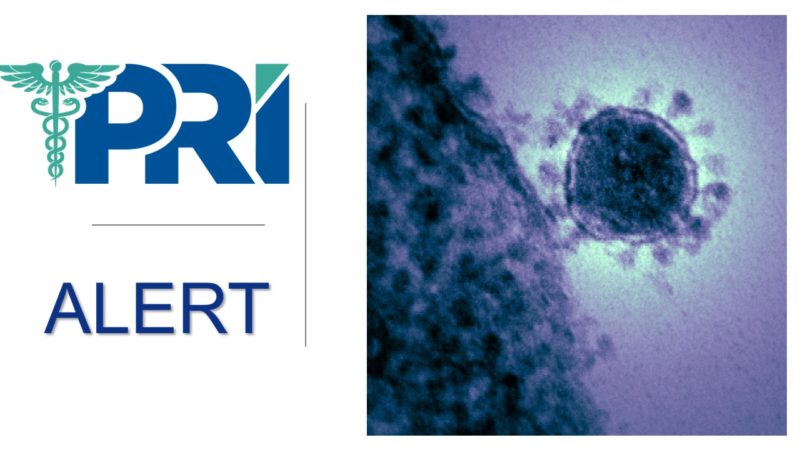 As the situation with the 2019 novel coronavirus (now termed COVID-19 by the WHO) evolves, it is important to be aware that these rapidly changing, highly visible infectious disease events can be a source of malpractice risk. For example, as a result of the 2009 H1N1 Pandemic, PRI saw claims related to the alleged failure to timely diagnose and treat H1N1 resulting in death. As your malpractice insurance carrier, PRI would like to emphasize the importance of identifying potential cases of COVID-19 and implementing measures to prevent potential transmission within your practice in order to prevent potential malpractice exposure.
Please find below a link to the CDC "Flowchart to Identify and Assess 2019 Novel Coronavirus". https://www.cdc.gov/coronavirus/2019-ncov/hcp/identify-assess-flowchart.html
Healthcare providers are advised to follow the CDC's recommendations regarding infection control. Key elements include:
When scheduling appointments, staff should advise patients/caregivers to inform staff of any symptoms of respiratory infection.

Ensure rapid triage of patients upon arrival.

Ensure all patients with respiratory infections or suspected

COVID-19

adhere to respiratory and hand hygiene, and cough etiquette.
Identify a separate, well-ventilated space that allows waiting patients with suspected

COVID-19

to be separated by at least 6 feet.

Provide easy access to facemasks, tissues, 60%-95% alcohol based hand sanitizer and no touch receptacles for disposal.

Staff should be provided with appropriate PPE; including gloves, gowns, respiratory protection and eye protection.

HCP collecting specimens for testing for

COVID-19

from patients with known or suspected 2019-nCoV should adhere to Standard, Contact, and Airborne Precautions, including the use of eye protection.

Consider posting visual alerts regarding respiratory and hand hygiene, and cough etiquette.
Healthcare providers should immediately notify their local or state health department in the event of a PUI (person under investigation) for the 2019 novel coronavirus or COVID-19. This is an evolving situation, and as such PRI would like to advise you to remain up to date regarding this outbreak.
Additional resources include:
https://www.cdc.gov/coronavirus/2019-ncov/index.html
https://www.who.int/emergencies/diseases/novel-coronavirus-2019
https://www.health.ny.gov/diseases/communicable/coronavirus/providers.htm
---
THIS MATERIAL IS PROVIDED ONLY IN AN ATTEMPT TO HIGHLIGHT THE POTENTIAL FOR ERRORS AND OMISSIONS, AND IS NOT TO BE CONSTRUED AS DICTATING THE PRACTICE OF MEDICINE.